About Us - Guam Surveyor, L.L.C.
With over 50 years of combined land surveying experience all over the Pacific, Guam Surveyor, L.L.C. has a veteran crew that can handle your surveying needs. We have a team that is professionally licensed in Guam, California, and CNMI with an educational background that includes college degrees in Land Surveying from the states and classes from Guam Community College. We provide a variety of services with unparalled expertise and cutting-edge surveying systems and processes.
Built from the legacy of Prudencio R. Balagtas & Associates, Inc. and with access to a large database of surveying information and maps, our experienced team has the resources and knowledge to perform your survey. We value experience and education and encourage our employees to continue updating their skills. As a result, we participate in the apprenticeship program at Guam Community College. Locally-owned and operated, we stand by our work and are eager to help you. Si Yu'us Ma'ase and thank you for your interest.
About Our Principal Land Surveyor - Dennis S. Balagtas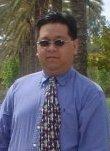 As a teenager, Dennis started learning the craft early from his father, Prudencio Balagtas. He would work out in the field as part of his father's survey crew around Guam. After graduating from J.F.K. in Tamuning, Dennis went on to earn his Associate's and Bachelor's degrees in Land Surveying. His experience in Land Surveying extends across the Pacific from Guam to California with both private and government entities.
He and the other team members of Guam Surveyor, L.L.C. have a passion for land surveying and appreciate how it has the ability to help people make the most of their properties. Land surveying humbly touches almost every aspect of life and it is often a guide to the history of Guam.